Originally from Ghana, now living in Winnipeg, Coffie performs a rocking African music and rhythm show followed by a full-on dance work-shop.
Coffman's repertoire encompasses calypso, reggae, and African hi-life music, particularly from Ghana where he participated with the National Dance Company for a number of years.
Evans has been a member of the Ghana Dance Ensemble for 11 years, touring Europe, USA, Canada, Soviet Union, the Caribbean and Africa. He now teaches how to play, create and establish the rhythms of Africa in easy-to-understand and fun-filled one-hour lessons in Winnipeg and surrounding areas.
A wonderful childrens' entertainer, Evans enjoys his music as much as the children do! He demonstrates his collection of African (or talking) drums, playing rhythms of Djembe, Conga, Woyo, Talamandi, Kinasona, Nagala, Highlife and more, teaching children the history behind music.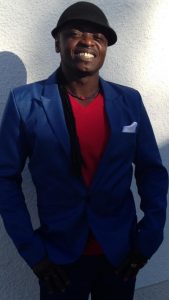 "Sharing my talent is a need I have inside of me. In my culture, songs, dances, rhythms and more are kept alive by the sharing of these with everyone. Music feeds my soul and I would not be able to survive without it or without sharing it. I am always singing, working on a rhythm, or trying out new dance moves. It is my privilege to be able to share what I love with so many people."
Becoming a member of Folklorama felt like the perfect fit for Evans.
"Folklorama is such an asset to me, as they hold the same values of sharing the abundance of culture we have here in Winnipeg and throughout Canada. I am blessed to have found an organization that helps me pursue my passion of sharing authentic African culture with as many people as I can."
"With every performance I give, I have memories to cherish. I love seeing the faces of children when they participate with me in the Jungle song with all the animal calls, or when I ask the men to join me on stage for a dance."
Throughout the pandemic, Evans Coffie has had fewer opportunities to share his culture with the masses but has been entertaining audiences every once in a while through Zoom and a couple of socially distanced community events. Evans continues to play music every day and has been busy working on a new album, which features songs that he has written.
"I am staying home and staying safe, and playing my music every day, it is my lifeline. I find that it calms and relaxes me. Although we have had more time on our hands, we can't forget to keep alive the things that are most important to us, and for me, that is my culture through music and dance."